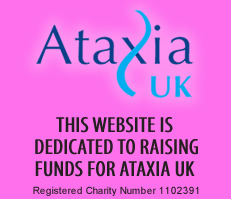 THE BIG BAD BIKE RIDE
PURPOSE
The Big Bad Bike Ride is an annual sponsored bike ride which was set up in 1991 to raise money for Ataxia UK, a charity which supports research into potential cures for Friedreich's ataxia. All money raised is for research into finding the cure for Friedreich's ataxia. Our running total after the 2016 Big Bad Bike Ride is over £1,060,000 in sponsorship.
NEWSFLASH
The 2016 Big Bad Bike Ride is now completed.
RAISED SO FAR FOR 2016
£147,000 !!!!
This is an amazing achievement so far - view our thank you video.
NEWSFLASH
STOP PRESS:
TOTAL RAISED for 2014
£140,000 !!!!
This is an amazing achievement and well beyond what I expected. This takes the total raised from all the BIG BAD BIKE RIDES to a phenomenal £960,000 ! Read more...
BBBR 2014 NEWSFLASH
The 2014 Big Bad Bike Ride was held in York
on Saturday the 13th September 2014.
It was a 100K challenge into the Yorkshire Wolds.
The start and finish was at the York Sport Village (just off the Hull Road).
See over 1500 photos from the event!
If you would like a copy of a photo, please contact Lewis directly and he will arrange to send you a high-quality digital version.
THE BIG BAD BIKE RIDE 2013
They did it!!!!
100 riders survived the Hills of Snowdonia in sunny Wales.
They raised over
£75,500
Taking the total from all Big Bad Bike Ride's to £820,500.