At the moment the idea is to take a rest next year from sponsorship and plan a bigger better BIG BAD BIKE RIDE on Saturday September 10th 2016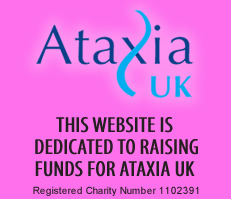 THE BIG BAD BIKE RIDE
PURPOSE
The Big Bad Bike Ride is an annual sponsored bike ride which was set up in 1991 to raise money for Ataxia UK, a charity which supports research into potential cures for Friedreich's ataxia. All money raised is for research into finding the cure for Friedreich's ataxia. Our running total after the 2014 Big Bad Bike Ride was £960,000 in sponsorship.
NEWSFLASH
STOP PRESS:
TOTAL RAISED – FINAL TOTAL
£140,000 !!!!
This is an amazing achievement and well beyond what I expected. This takes the total raised from all the BIG BAD BIKE RIDES to a phenomenal £960,000 !
The £1 million target is within reach!
I was just about to close off the bike ride fundraising when I received 2 surprise large donations. A further £4000 from Lexia Solutions to take the team total to £10,000. Also Peter Amos had a big donation from his company for over £3000.
I can't thank people enough for how well they have done on sponsorship. For some riders the sponsorship was difficult, but nearly everyone bar a few, paid in what they committed to when they signed up for the ride. In particular we had a star in Jason Davy who entered a team of 20 people and raised over £10,000 for the charity.
Click here for the listing identifying the sponsorship levels.
I'm sorry if there are any inaccuracies as many people did join forces in sponsorship and it was not always easy to identify the relationships.
It goes without saying that we also had a lot of help from the Bumstoppers, Marshals and many others on the side-lines who helped make this event a fantastic success. I thank all those who go unrecognised for their efforts.
So What happens Next?
At the moment my idea is to take a rest next year from sponsorship and plan a bigger better BIG BAD BIKE RIDE on
Saturday September 10th 2016
My intention is to hit the £1 MILLION!
We will probably do the 105k route from York… in reverse (stand by your gears).
Also, I will be arranging a MILLION POUND Black Tie Dinner in the evening and we have provisionally booked the National Railway Museum for this event. I'm just checking if my hero David BOWIE is available.
2016 also happens to be the 25th year since I started the Bike ride.
You have plenty of time to train and to recruit virgins for the ride.
This will be the BIGGEST BADDEST RIDE EVER.
BIG THANK YOU TO ALL… for this fantastic effort in fundraising for ATAXIA.
One day a treatment or a cure will be found for ATAXIA and you will have helped make it happen.
KOMMANDER K
NEWSFLASH
The 2014 Big Bad Bike Ride was held in York
on Saturday the 13th September 2014.
It was a 100K challenge into the Yorkshire Wolds.
The start and finish was at the York Sport Village (just off the Hull Road). See map by clicking below.
View
BBBR 2014
in a larger map
THE BIG BAD BIKE RIDE 2013
They did it!!!!
100 riders survived the Hills of Snowdonia in sunny Wales.
They raised over
£75,500
Taking the total from all Big Bad Bike Ride's to £820,500.